As we become a digital-centric age, everything has become convenient for us. From ordering food online to delivery services, our carbon footprint has emerged drastically. Relatively, our lifestyle has also changed and we aim to have everything as a luxury.
House cleaning services Chapel Hill, NC research estimates around 12,000 metric tons of plastic waste will eventually crown landfills by the year 2050. This report mirrors what the United Nations Environment (UNEP) had reported during World Environment Day in 2018.
How do we combat this world wide conundrum? We should apply at least one of the 5Rs of the environment at our homes. 5Rs stand for "Refuse, Reduce, Reuse, Recycle, Rot."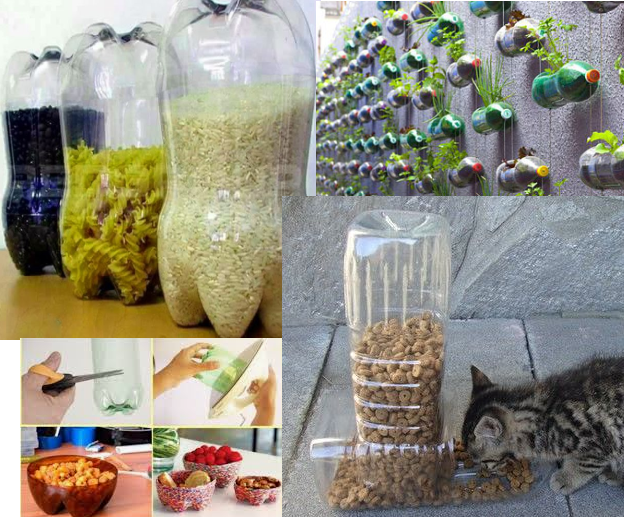 As luck would have it, we have courageous eco-warriors who are vigorously spreading awareness to becoming mindful and hopeful for a greener environment. So, in this article, we are going to show you clever ways of recycling or reusing old plastic bottles.
Got plenty of old plastic bottles at home? Don't feel bad. Don't throw them away either. We will help you recycle and upcycle them into a functional masterpiece.
1. Reuse bottles to refill the same products
Since we are eliminating the idea of trash altogether, why not reuse the same bottles to refill basic household products?
Thankfully, there are zero-waste shops nearby that sell liquid detergent, fabric conditioner, shampoo, dishwashing liquid, just to name a few.
2. Upcycled Pencil of crayons organizer/case
Being eco-friendly starts at home. Upcycling your bottles into a pencil or crayon organizer is majestic! Here's how to make one: Cut of the top of any used plastic bottle and the bottom of another. Glue the zipper to both ends, decorate accordingly, and voila, you're all set!
3. Food storage containers
Starting to appreciate green living? Start in your kitchen!
Upcycle old bottles by reusing them into food storage containers. At home, we recycle soda and water bottles to store coffee, coffee creamers or powdered milk, salt, just to name a few.
4. Eco-bricks
To help jumpstart your green living, turn your plastic bottles into something useful! Instead of throwing away plastic bags or candy wrappers, straight to the bin, but them into small pieces and insert them inside the plastic bottles. As you fill it with "plastic waste," it'll become sturdier and is good to use as a "brick."
This method is adopted by certain establishments like hotels, organizations, and school institutions.
5. Recycled pet food bowls
If you love pets, this is going to be a fun activity for you. Any used plastic bottle is okay to be recycled as a pet food bowl, so long as it's thick and sturdy.
How to make:
Cut a hole on one of the bottles with scissors
Cut the other bottle in half width-wise
Fill the lower part with pet food
Close the pieces together in each other. Unscrew the lid and place it in the orifice.
6. Upcycled newspaper and magazine rack
Upcycle your used plastic bottles into a functional newspaper and magazine rack!
It's also easy to make! All you need are old plastic bottles, scissors, tape, and either mount them on a wall or glue them an extra piece of wood.
7. Upcycled trash can
A foreigner once asked me "why is it hard to find a garbage here?" Imagine if we were to recycle all our old plastic bottles into a trash can. I'm sure it'll encourage fellow citizens to dispose of waste properly.
8. Vertical Garden
You can ask your staff and your community to collect old plastic bottles so you can upcycle them into plant pots.
9. Party snack bowls
Take your snack time to a whole different level. Reuse old plastic bottles into a stylish snack or party bowls!
How to make it is extremely easy. Cut the bottom of the plastic bottle, use a hot iron to flatten and smooth out the cuts by using washi tape, or use a glue stick to stick other decorative paraphernalia.

Not creative enough to recycle?
It's okay. You're not alone. If you want to help and better your environmental impact, you may also donate your old plastic bottles in schools, and other eco-friendly establishments. Learn more about this by researching community groups on Facebook.
Ultimately, recycling or reusing old plastic bottles is just one of the multitude of ways to combat plastic waste. What is important is you have the drive and determination to save our only home. Outside our home, what are we all accountable for?